Serving Massachusetts and Connecticut for Over TEN Years
No job is ever too big or too small for Spartan Concrete Services. Based out of Wilbraham, Massachusetts, Spartan Concrete Services is a family-owned, locally operated business, primarily serving Massachusetts and Connecticut. Our services range from commercial to residential including a variety of professional, flat-work concrete projects, bobcat and dump truck services, excavation, and snow plowing. Any questions and project inquiries!
Plan Your Outdoor Living Area Project NOW!
Now is the perfect time to plan renovations on your outdoor living areas. If you're struggling to maintain old, out-dated concrete or pavers, Spartan Concrete Services, Inc. can take care of the hassle and build you a luxurious, relaxing outdoor living space at an affordable cost. Spartan Concrete Services' philosophy is to customize each project to fit your needs. Our attention to detail and exceptional craftsmanship will provide a sense of ease and security while managing your home renovation projects. Our experienced team of concrete finishers will build you the backyard of your dreams! Providing stamp concrete, excavation, and snow removal services to Western Massachusetts, including the Greater Springfield area, Wilbraham, Hampden, Springfield, East Longmeadow, Longmeadow, Agawam, Ludlow, Chicopee, Westfield, West Springfield and more. If you don't see your town/city listed, call us (413) 214-7983 for more information.
Ask Us About Our Budget Concrete!

Spartan Concrete Services, Inc. offers affordable, budget-friendly concrete options for your outdoor living area project. To learn more about our budget concrete services,  call us today at (413) 214-7983 and speak with one of our friendly staff or visit our showroom at 2400 Boston Rd. Wilbraham, MA 01095.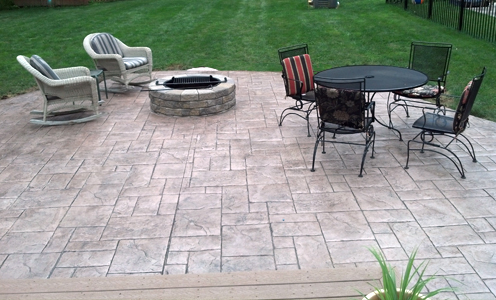 The addition of a decorative concrete patio to your home could be a game changer this Summer!
An outdoor patio enhances the appeal of your backyard by providing a place for kids to get fresh air, parents to unwind and a space the entire family can enjoy together. Customize any patio for your lifestyle by adding a fire pit or built-in seating bench. Call Spartan Concrete today at (413) 214-7983 to start planning your new outdoor oasis!
Ready to start planning? Explore your options below: